Overview
The WorkSight Flow mobile app is a resource for employees to easily view and manage their work time – anywhere, anytime.
Employees can
Record their time and attendance

View their work schedules

Manage and request time off
This guide will walk the user through the following topics:
Installing the mobile app
When your WorkSight administrator invites you to use WorkSight, you will receive a Signup Confirmation email which will include links to install the mobile app on your preferred device as well as a link to get started by completing up your user profile.
iOS users: Download from the iOS app store

Search the App Store for "WorkSight Flow"

Android users: Download from the Google Play Store

Search the Play Store for "WorkSight Flow"


Completing your user profile
Clicking the 'get started' link in the Signup Confirmation email to complete your User Profile. A browser screen will open, where you can enter your name and create a password. Optionally, you may also enter your phone number and choose a profile photo. When done, click CONTINUE.
Your user profile is now activated and you can open the app from your device's app menu and sign in using your email address and the password that you just created.
Signing in to the app
On your mobile device, tap the WorkSight Flow icon in your app menu to open the application.

Tap in the Email field and enter your email address.

Tap in the Password field and enter your password.

Tap the SIGN IN button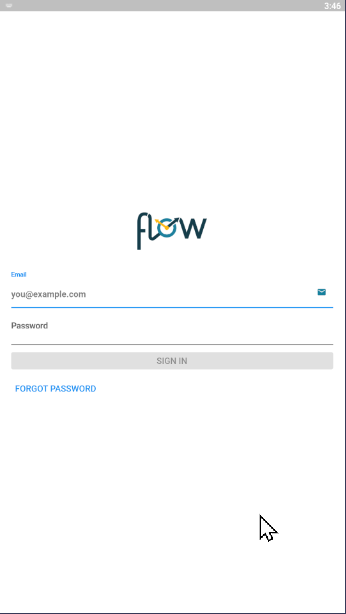 Signing out of the app
Tap the Menu icon (located in the top right corner)

Tap Sign Out
The mobile UI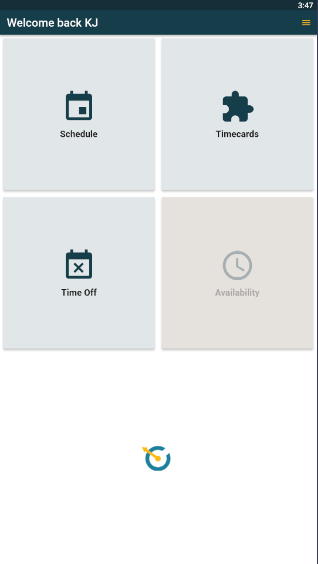 The mobile app has 4 main modules, from which you can perform a number of tasks:
My Schedule, where you can view your schedule by day, week, or month.

My Timecards, where you can view, edit, and sign off on your timecards.

My Time Off Requests, where you can submit and edit time off requests as well as view your time off balances.

My Availability (future feature), where you can set your availability for shift coverage.
Click on the Hyperlinks above for more details on each of these modules.
Mobile users with the appropriate permissions can access any of these modules by tapping on the button from the application's home screen: