SKIP AHEAD TO
WorkSight Flow's iOS and Android apps can help you monitor and capture work on the go. Here are the top ways our customers use our mobile app:
Mobile feature documentation and how-tos
If you're looking for feature and device-specific how-tos, or want to see all mobile functionality, please reference our Mobile - WorkSight Support. This article features tips and best practices for getting started with our mobile app. The links in this article take you to our Mobile guide.
1. View work schedules
You can view your schedule to easily see where you are supposed to be, when you are supposed to be there, and what you are supposed to be doing.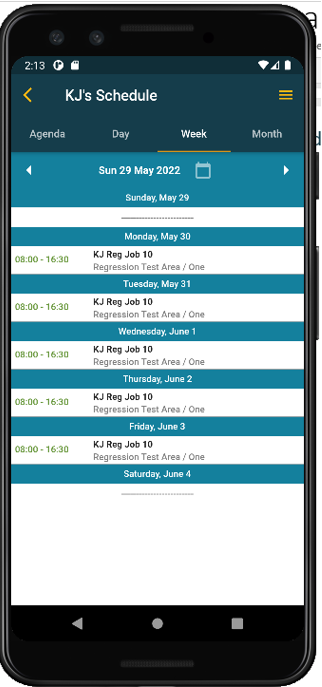 2. Record time and attendance
You can view and edit your timecard details as well as sign off on your completed timecards.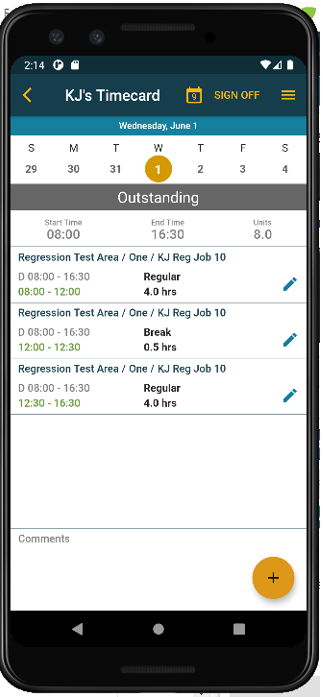 3. Manage and request time off
You can view and manage your time off details - view accrual balances, view upcoming and past time off requests, edit and create new time off requests.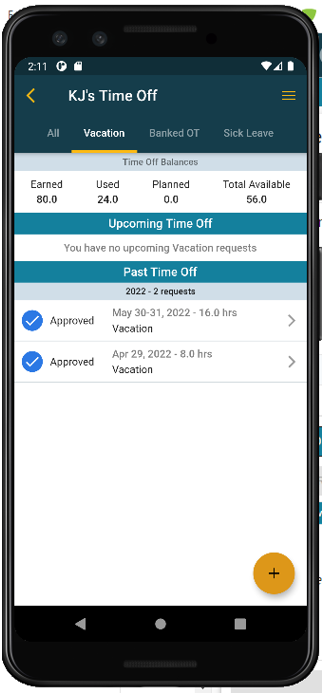 4. Help onboard your teammates to WorkSight Flow
Is your team still getting the hang of WorkSight Flow Mobile? Flow's mobile app functions similarly to the web version but is a more simplified view on mobile. Here are some handy tips:
To...

Do...

View your Schedule

Tap the view name at the top of the screen or swipe left/right on the screen to view your schedule:

Agenda - displays all your events grouped by day
Daily - displays events for a single day
Weekly - displays events for the current week
Monthly - displays events for the current month shows, with an icon on each day of your scheduled shifts and approved time off.

Navigate thru, Create and Manage your timecard entries

Tap a day in the date bar to view a day
Swipe left/right on the date bar to move a week forward or back
Tap the calendar icon in the header to return to Today's date
Tap the + button to open the Add Timecard Details screen and add shift details to a day off TO create a timecard,
Tap the 'edit' (pencil) icon on the right of each timecard segment to open the Edit Timecard Details screen to edit a timecard

Add new or change details on an existing timecard segment and SAVE
Delete the chosen segment of the timecard, by tapping the trash can icon. Confirm the deletion.

View, Create and Manage your Time Off Requests

Tap the time off type name at the top of the screen or swipe left/right to view details for a specific time off type.
Accrual details are displayed at the top of each time off type screen, so you can see how many units you have earned, used, planned, or are available to use.
Tap the + button to Submit a Time Off Request for a partial day, a full day, or multiple sequential days
Tap the 'edit' (pencil) icon to edit or cancel an existing Time Off request that is in the future and still in a "Requested" state
More resources
Want more tips and best practices for using Flow's mobile apps? Check out these resources:
| | |
| --- | --- |
| Resources | Link |
| Download the app | |
| Video tutorials | |
| Get how-tos | Read help articles for Mobile - WorkSight Support |
| FAQ's | Get answers to frequently asked questions (FAQ's) |